Semir Mustafić is an advanced university student at department of Journalism in Tuzla, Bosnia and Herzegovina. He is working as a radio reporter of the Federal Radio and the Press Council in Bosnia-Herzegovina. He loves the dynamics. He's ambitious and likes to know new people and gaining new experiences. He is a member of Youth Press Association in Bosnia and Herzegovina.
Vladimir Čolaković is board member in Youth Press Association, journalist on Youth Program at BH Radio1, and correspondent at the radio show "Your voice in media", which is produced by Press Council in BiH. Withal, he writes poems and short stories, and he published book of poems in 2012. He likes to use social networks for citizen journalism, and for declaring problems of society.
Yuliya Hudoshnyk is a communications manager at Ørecomm, Danish-Swedish research center for communications for development. Being inspired by the power of online communications, she studies how new media can drive diplomacy, innovation and social movements.
Oskar Vitlif is radio host and editor in Berlin, interested in politics, new media, tv shows/movies, music. He is going to study journalism in Dortmund.
Milica Žugić – journalist and NGO activist. I'm founder and President of Mladiinfo Montenegro, Secretary General of Montenegrin Youth Forum and representative of M!M at European Youth Press.
Martin Hanzel works as the chief photographer for Novy Cas, Slovakia's largest newspaper, heads a team of 10 people and our job is supply the newspaper with picture material.
Ljubica Kovačev, 26 years old, graduated from Faculty of Philosophy in Novi Sad three years ago. I am working as a tv journalist for two years now. Born in Vojvodina, Serbia, but I live in Banjaluka, Republic of Srpska.
Julie Mahlerova is a media literacy advocate. I love travelling, new challanges and am addicted to personal growth – I never want to stop learning and evolving. I recently started swing dancing and found that it truly "floates my boat".
Facebook, Twitter, LinkedIn, Blog.
Fatima Hasani. My friends call me Bardha, which would translate as "White". I'm a double major student, therefore I study in Skopje and Tetovo too. I speak fluent Albanian, Macedonian, English and have a great understanding of Spanish, Serbian and Bosnian. I'm 20 years old and I love to travel on my own and being active.
Elena Marjineanu. I am very fond of advertising and social media. Therefore I'm like a real sponge when I learn something new about it. Likewise I love books, I love words, I love to agonize over sentences. I might say that I think I can make out of a word the most beautiful place on earth.
Dominique Doss. About me: I'm a Peace Corps Volunteer and currently located in Moldova.I love to write poetry,various forms of art,workout,and spend time with my family.I recently published a book "Conversations from the Back Burner"(can be purchased on Amazon).
Facebook, Twitter, Instagram, LinkedIn.
Claudia Hammermuller. If Claudia, 26 years, should describe herself in three Hastags, they were #media #politics and #travelling: She studies media and political studies at the University of Leipzig, Germany, is an active member of the German Youth Press Associactions and loves to travel the world.
Bojan Stojkovski. I'm 30 years old and I live in Skopje, Macedonia. I've been into journalism for 6 years now, covering foreign policy and news from the Balkan region. Active on Facebook and Twitter.
Aldina Luinović. I can say that I am journalist working in local TV station Forum Prijepolje. I enjoy playing basketball, traveling and learning languages. I would like to learn more about digital media.
Boban Blažeski. Hello my name is Boban Blazheski, I came from Ohrid, Macedonia. I recently took my bachelor degree in economics. At the moment im working in Bay of the bones museum in Ohrid.
Anita Bahtiri. I am on the third year of journalism. I love art. I like to travel and get to know other cultures. I am very happy because I am going to visit Belgrade, meet some new people and learn something new.
Ana Gherciu. I am journalist for about 3 years, even if I wanted to be an actor and my parents an economist. I really love my job, but it's hard to be a journalist in country where people are not able to analyze and polemize.
Adela Sevciuc. My name is Adela, I'am from Moldova. I study at Moldova State University, journalism, last year (III). I work at ,,Vocea Basarabiei TV ,, as a reporter.
Charis Bastin. Hi, I'm Charis, a 26 years old #photographer and #journalist from Belgium. I currently work for @StampMedia, an inclusive youth press agency. From a journalistic perspective I mainly focus on the #MiddleEast, #migrationissues and #mediacritique.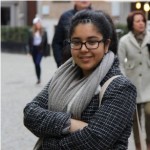 Fatima-Zahra Naimi (21) has been a journalist for the Belgian youth press agency StampMedia for the last 2,5 years. She both writes articles and makes video reports, and likes to think with a social media point of view. This month she started her master's degree in journalism.
Facebook, Twitter, Instagram, LinkedIn.
Jef Cauwenberghs. My name is @JefCauwenberghs, a 21 year old Belgian journalist currently writing for @StampMedia and Het Nieuwsblad.be. I obtained a bachelor degree in journalism and I'm trying to add a Master's degree in social anthropology to that. Why? Because in my opion a good journalist digs in society, just like an anthropologist.
Nina Đuranović. When I was in elementary school, I wanted to become a journalist. Although my vision of the job has changed, from initial desire to become a TV face to a person who seriously seeks for the truth and changes in society, my dream is still the same. Also being an amateur photographer, I enjoy traveling and taking pictures of beautifull landscapes.
Bernd Hirschberger. I am Bernd, 23 years old and living in Munich. Currently, I am working on my PhD project examining how conflicts abroad are perceived in the social media. Furthermore, I am European vice president of the Catholic umbrella of youth organizations "Fimcap" and advocate for good conditions for youth work and youth exchanges.
Facebook, Twitter1, Twitter2, Twitter3.
Jo Graff. Jo is a human design strategist. One of the co-founders of "Kill Your Darling" – an agency for innovation in Berlin – encouraging collaborative creativity to solve problems. Her passion is journalism and experiencing other cultures: with an academic background in communications (B.A.) and European Media (M.A.), Jo has been working for media outlets and has been involved in several projects all over the globe.
Twitter, Instagram, LinkedIn, Website, Pinterest.
Niels Timmermans. Journalism and sports obsessed master student  from Antwerp. Writing and making videos for the Belgian youth press agency @StampMedia since 2012. Since 2006 also owner of a popular website about a Belgian cyclist. Loves to read, travel (especially Italy) and laugh to make the world a better place.
Olivia Drost. I'm a third year student of Journalism and Mass Communication at the University of Warsaw. I work as a journalist for the web portal Onet.pl (business department) and 2 printed magazines. In 2015 I won the main prize in the Maciej Szumowski's competition for the best reportage, organized by TVN and PolskaPresse and a Leopold Unger's journalistic scholarship for all achievements.
Suzane Gottlieb. I love travelling, reading and learning more about the world. I enjoy experiences news and stories through video and moving pictures. I always look for new experiences to make, like learning about Social Media.
Facebook, Twitter, Instagram, FourSquare, Snapchat: theonesusanne.
Nicole Friesenbichler (28) studied media management and journalism &new media. She works as a freelance journalist in Vienna and is especially interested in investigative researches and topics concerning politics, media and society. Likes travelling, photography, listening to people and their stories, watching movies, reading and learning something new everyday.
Facebook, Twitter, Instagram, LinkedIn, Xing, about.me.
Luka Nikolić. Student of journalism and journalist for local television in the city of Budva. Have had three years of working experience in the media so far, as well as numerous conferences and papers with all the topics related to journalism. I am constantly trying to reveal secrets of human soul alchemy, always without any results.
Emily Vanweydeveld. 
I'm a 27 years old Belgian citizen. I'm fascinated about society in all its guises; I went on to study anthropology and communication. I currently work as the communication officer at the French speaking Belgian youth council.
Filip Stamenkov
I enjoy a little bit of everything. Movies, TV shows, gaming, cooking, telling bad jokes just off the top of my head. REALLY annoyed with the new information trends and status of the media just because people believe everything they read on the Internet.
Facebook, Twitter, Instagram, LinkedIn.
Milena Kovačević
Milena Kovačević is a 20 years old student of European studies at the Faculty of Political Science in Montenegro. She is a member of Mladiinfo Montenegro for two years now